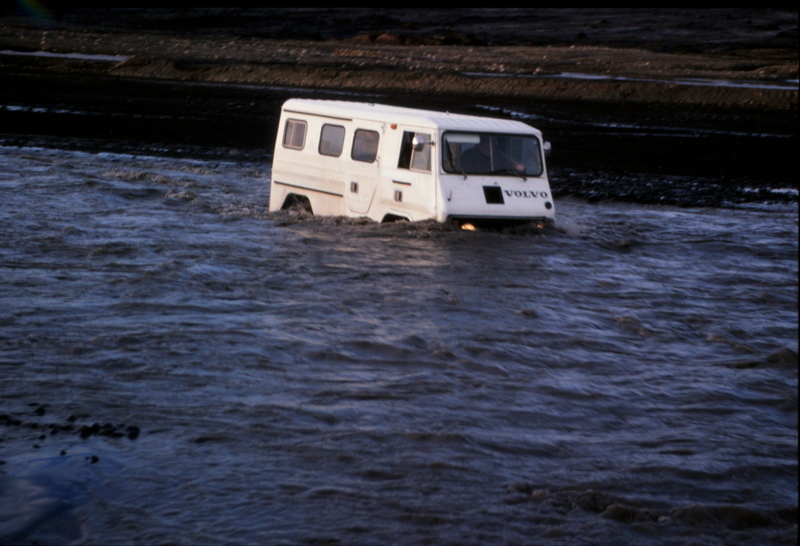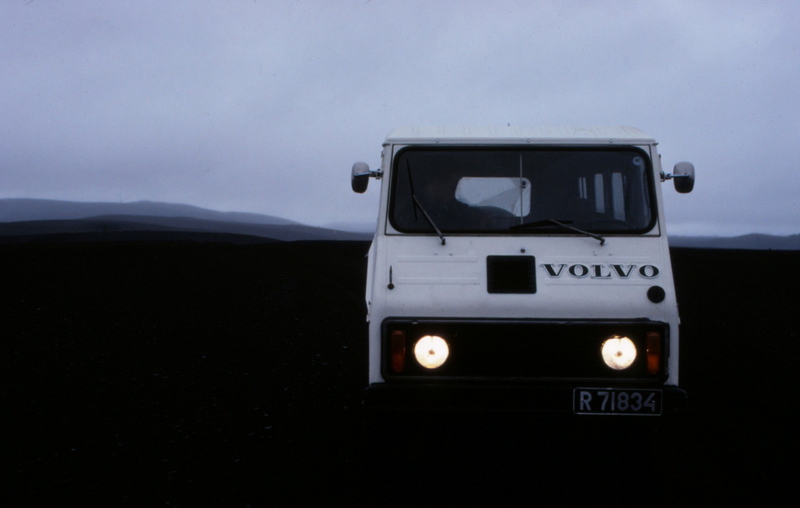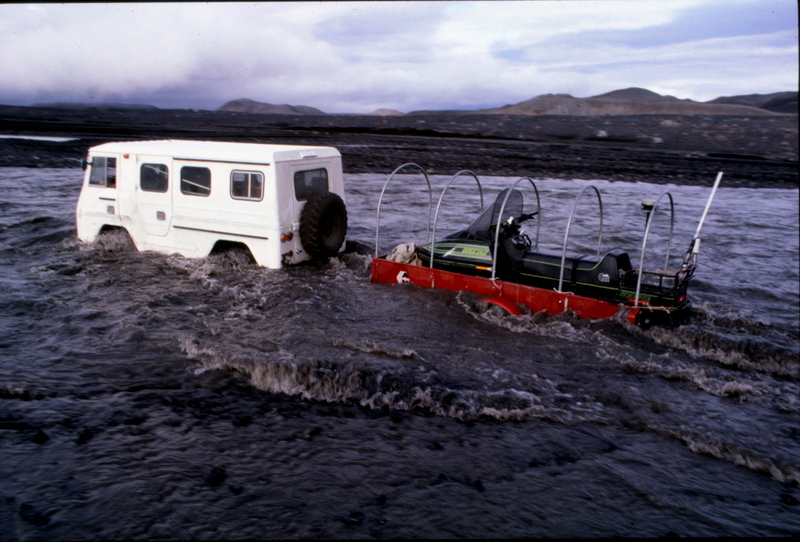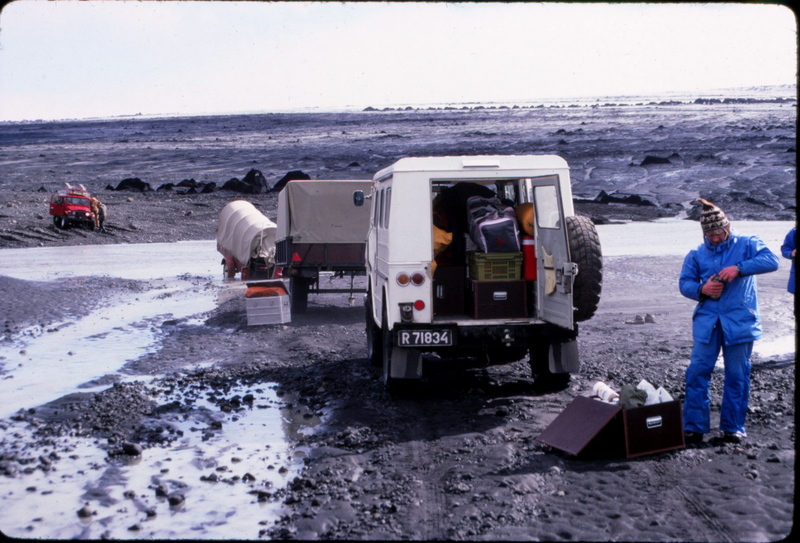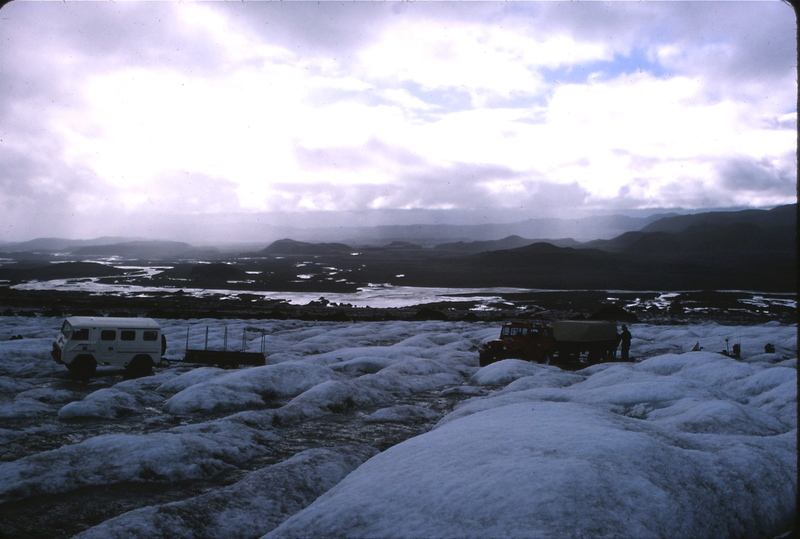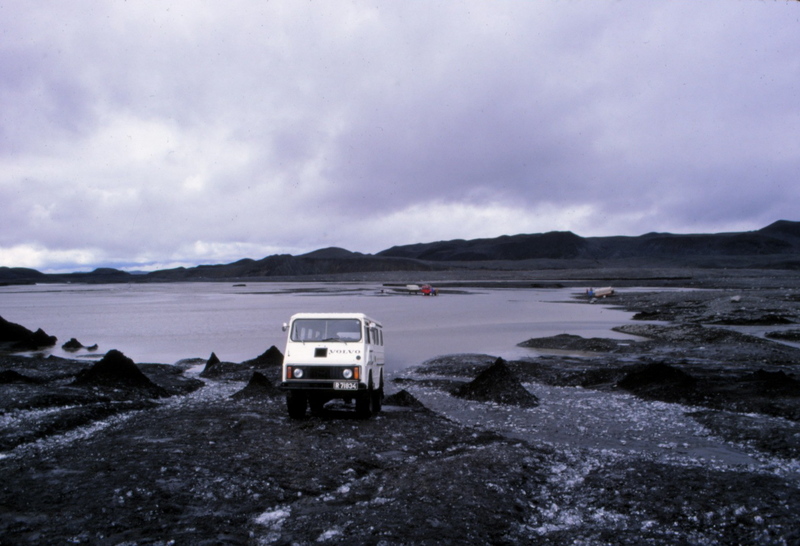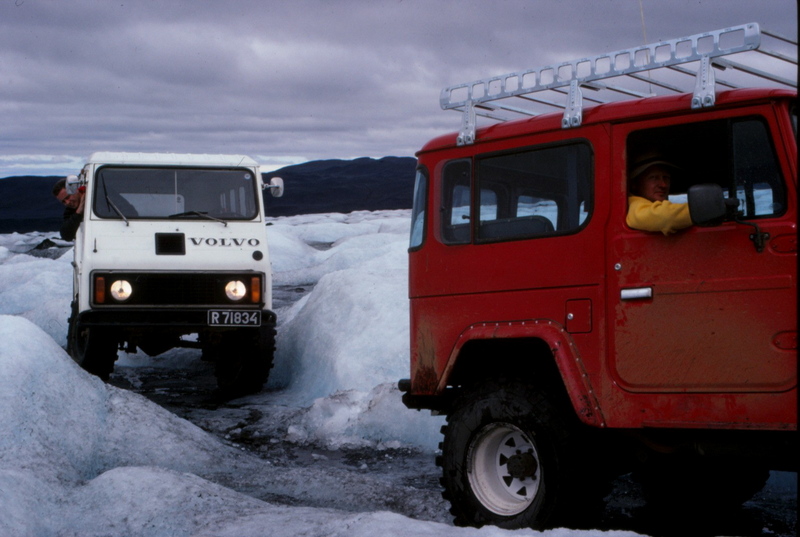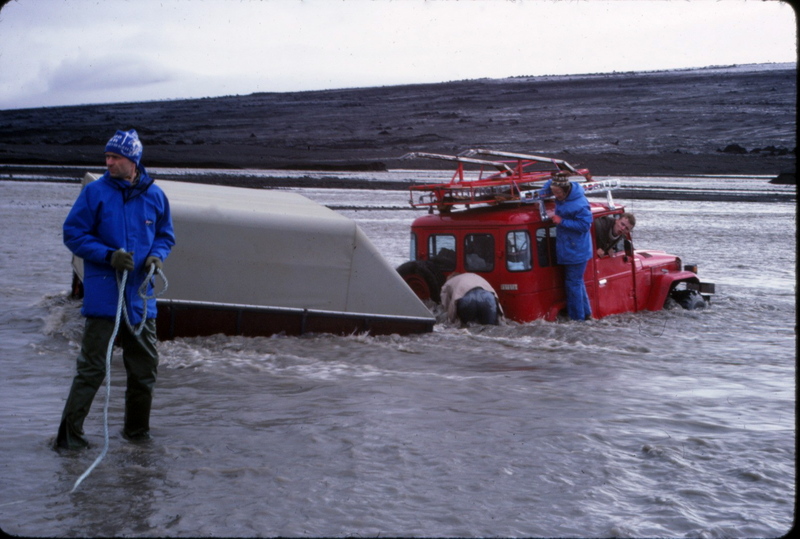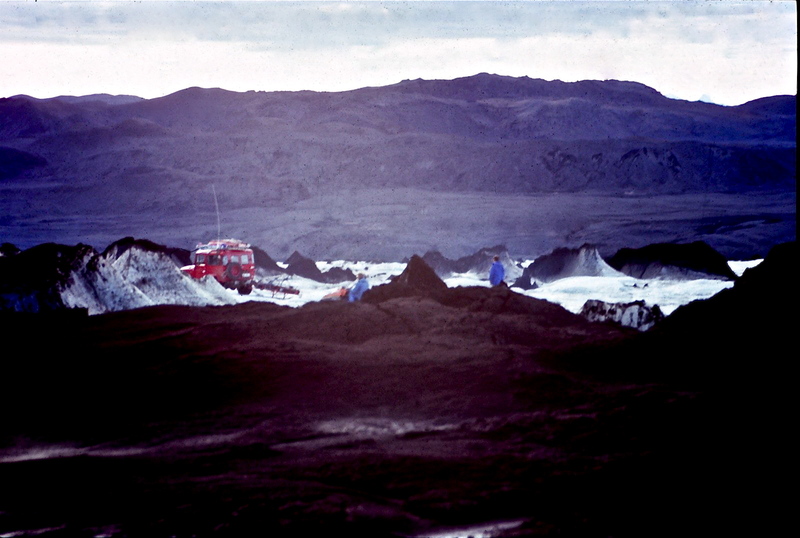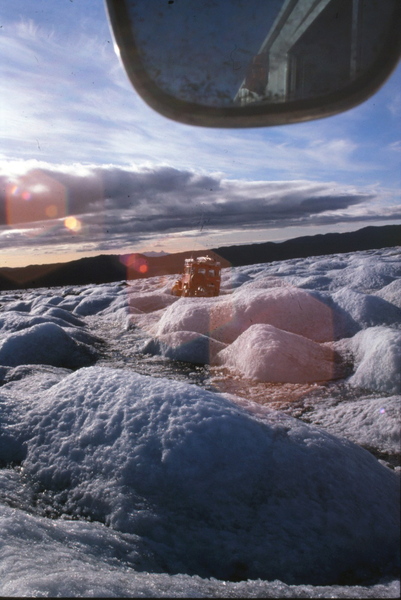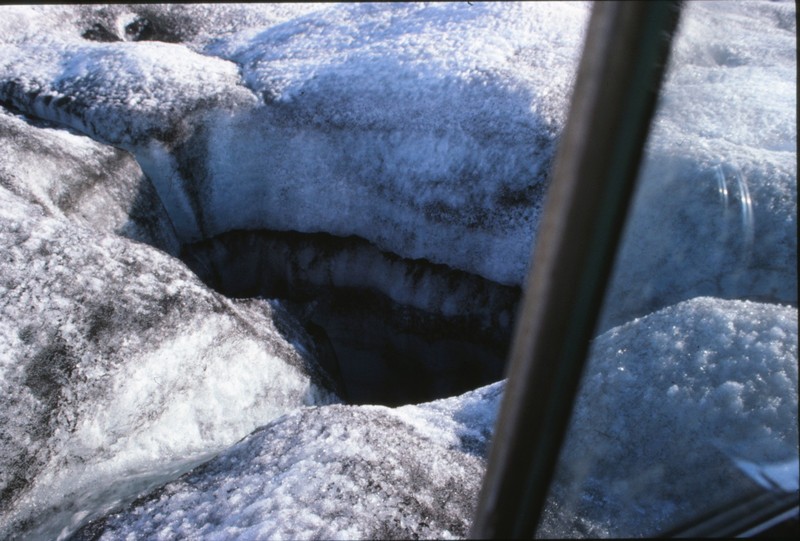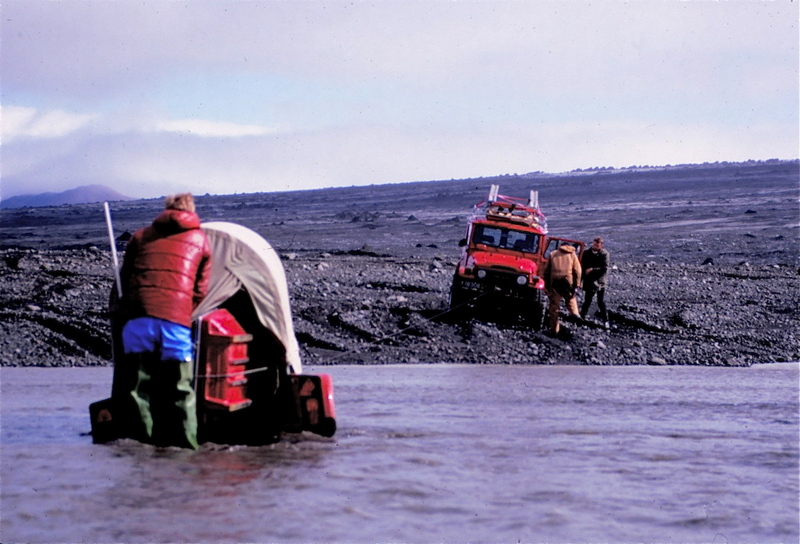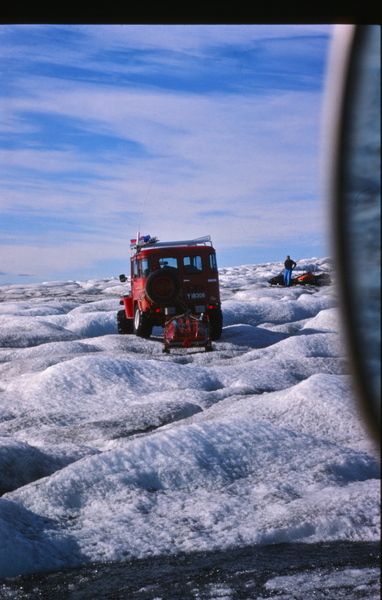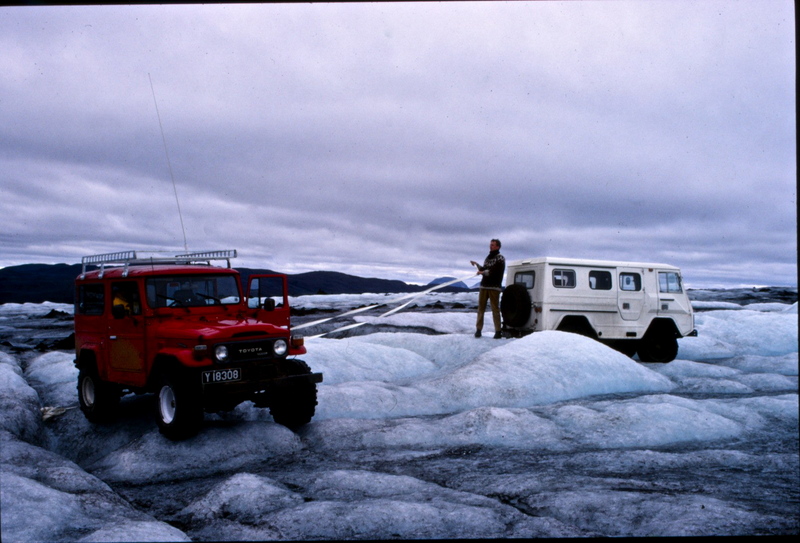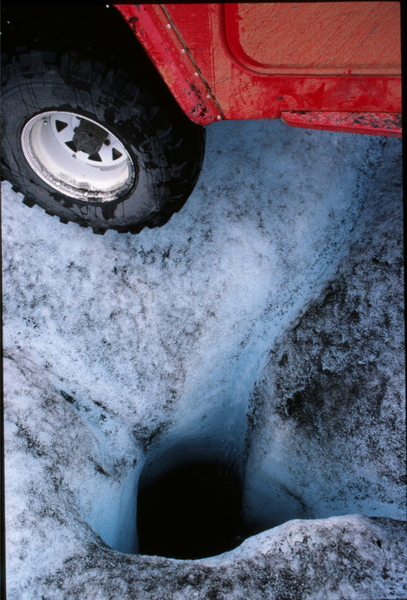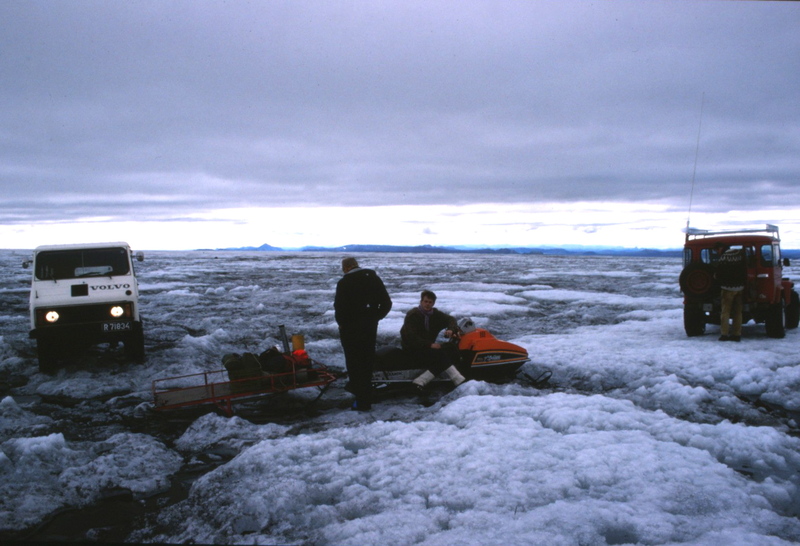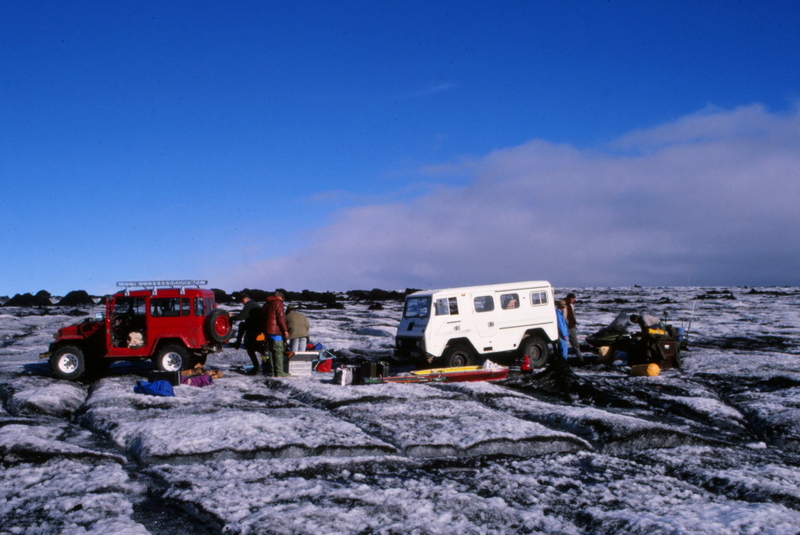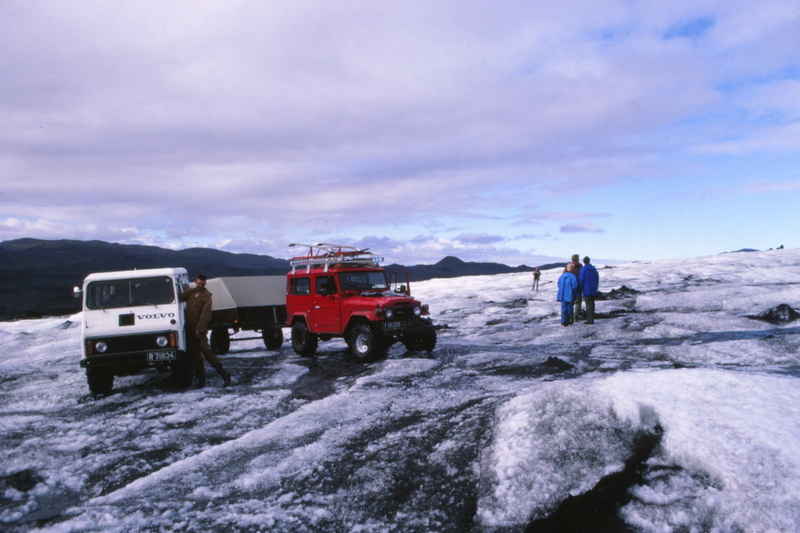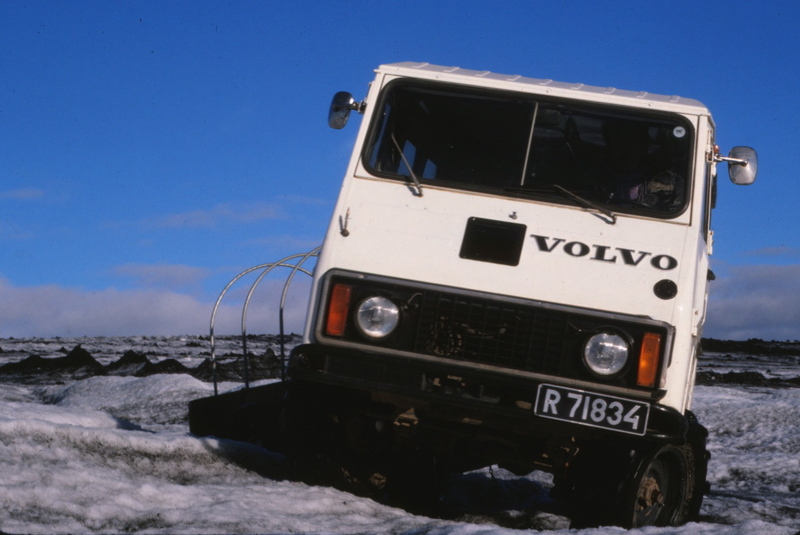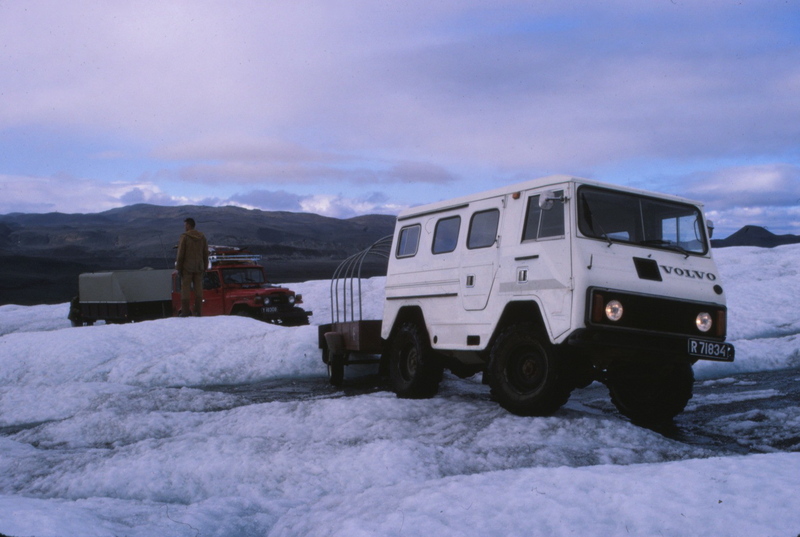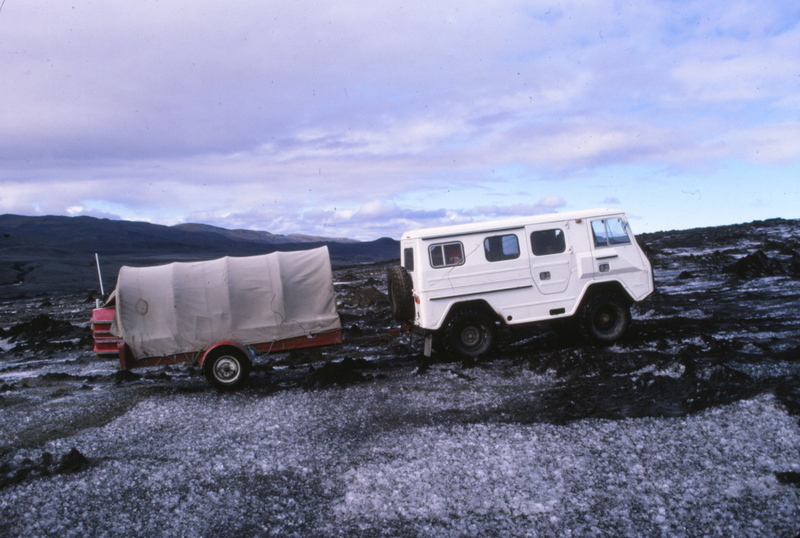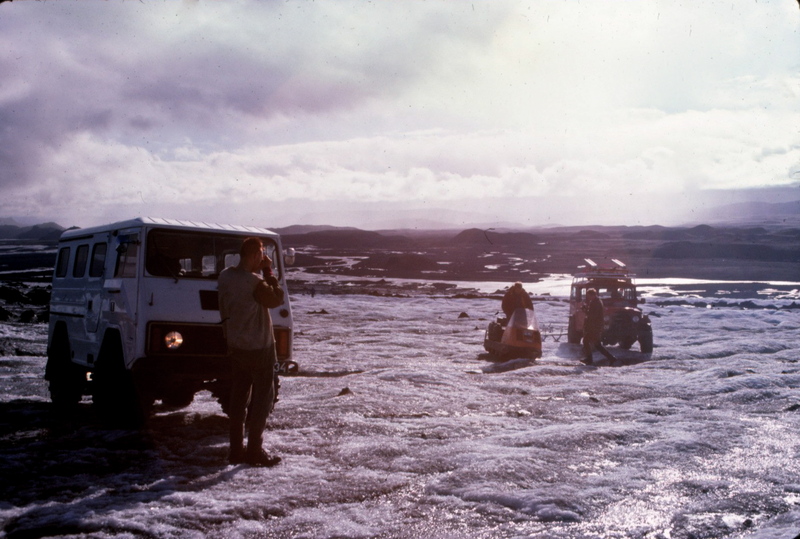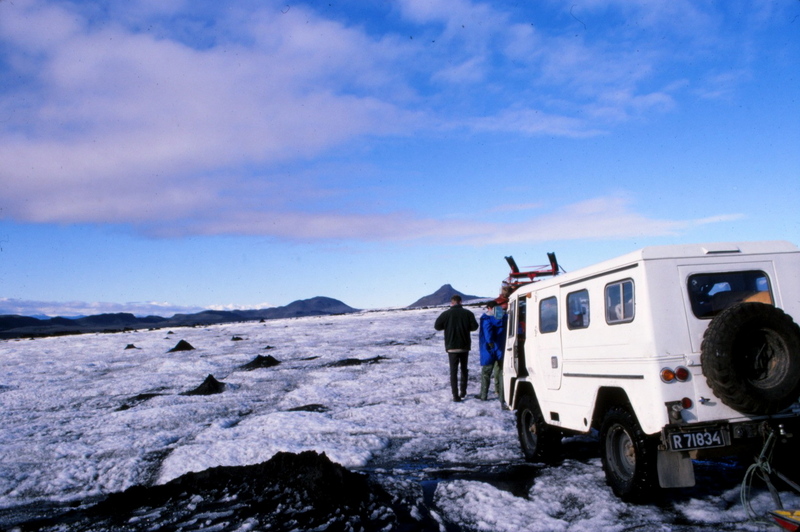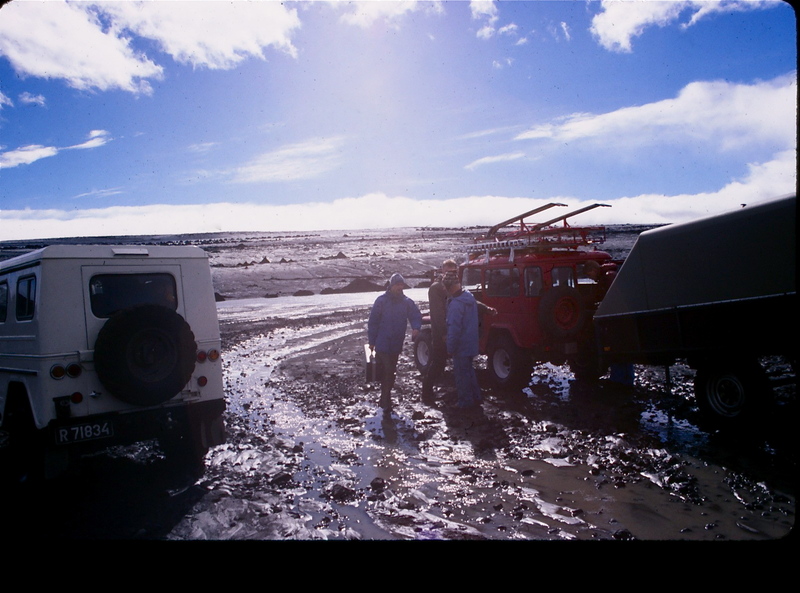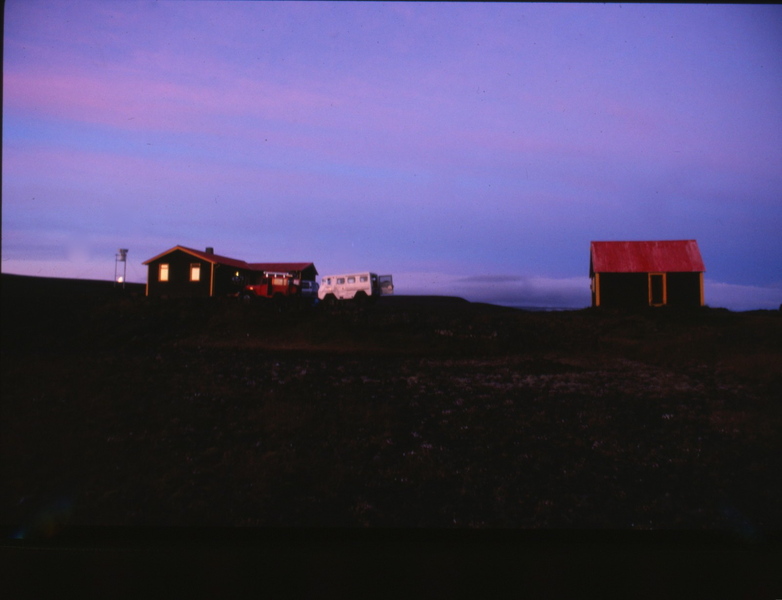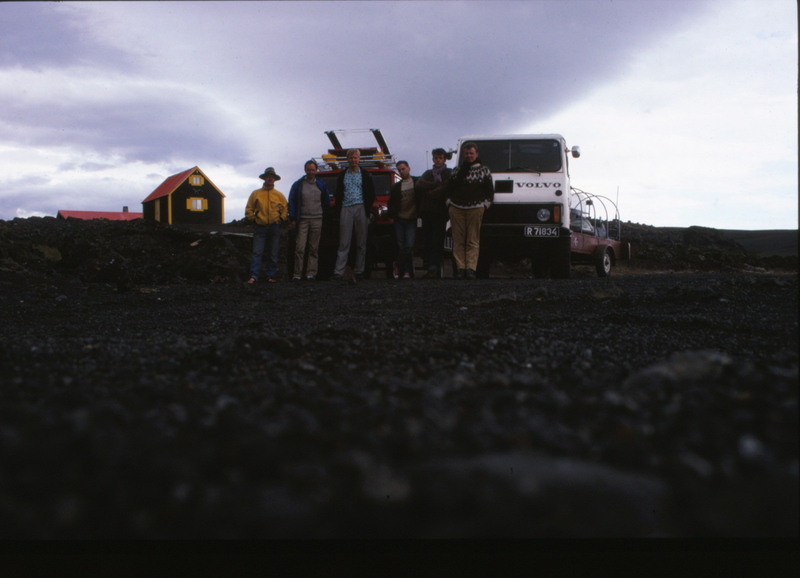 Geological expedition Vatnajökull 1988
Húbert Nói Jóhannesson (*1961)

Húbert Nói Jóhannesson graduated from The Icelandic Academy of the Arts experimental department 1987.

Before the Art Academy period Jóhannesson studied Natural Science and alongside his studies worked in the field executing geological surveys in the highlands of Iceland. That mind-set can be felt in his works as an artist.

"In my work for The National Energy Authorities I marked my measuring points with poles in the ground, the poles where later surveyed to be drawn to a map by a following team. The site I had been working half a month earlier was located exact down to a centimeter onto a map".

Locations have been Jóhannesson's main subject throughout most of his carrier.

Húbert Nói Jóhannesson works tug at our dual spacial sense, our ability to be in one place, here and now, yet elsewhere in our minds (Location paintings 1994; GPS paintings 1996; Music For Astronauts and Cosmonauts 1997-2002; 24 Sculptures by Einar Jónsson 1996).

This ability Jóhannesson emphasises by painting from memory and sketches.

Jóhannesson puts his attention on touching points and boarders of our environment, together with our perception and memory of the environment and that interaction of the two that comes into place in the process of an artwork (Painting of a painting 1994. As above, so below 1996).

Jóhannesson's view is that when you stand in front of an artwork your perception is not entirely in your body nor entirely in the artwork but in some 3'rd location where the mentioned factors combine.

Jóhannesson is focusing on space -Geometry- and uses that word in connection with his works refering to its duality as term in art and in measuring space.

In his works Rotated Canvas (2007) Landscapes depict specific places, painted from memory and sketches and identified by geographic coordinates. The artist says " To me these works, rotated and placed side by side, resemble the hemispheres of the brain,which also each reflect two sides of geometry quantitative and perceptual". Turning the works on their sides further loosens the reference to the places depicted and bring the imaginative aspect of the works to the fore.

Being in one place, here and now, and yet elsewhere in your mind brings forward the physics and duality of stillness and motion. In the work Gravity (2005) a 47 kg rust free steel and copper plumb, shaped in the form of an arrow tip, points to earth's center. Where this sculpture is on display the gravity is measured under it so the name changes with new location (gravity can differ in 20 cm and measured can map earts interior). The reason for that the plumb hangs still is the moving force of gravity working on it, and if put in motion the moving force of gravity will bring it to a still.

Húbert Nói Jóhannesson (*1961)

Húbert Nói Jóhannesson útskrifaðist frá Nýlistadeild Myndlista- og handíðaskóla Íslands 1987.

Húbert Nói nam raunvísindi við Háskóla Íslands og vann á námsárum sínum við jarðfræðirannsóknir á hálendi Íslands,víða má greina merki þess í verkum hans.

"Við rannsóknarvinnu hjá Orkustofnun framkvæmdi ég mælingar sem auðkenndar voru með merkihælum sem síðan voru staðsettir nákvæmlega inn á kort af mælingahópi sem á eftir kom. Þeir mældu upp á sentimetra hvar ég hafði farið um hálfum mánuði áður"

Staðsetningar hafa verið meginviðfangsefni Húberts Nóa megnið af ferli hans.

Í verkum Húberts Nóa er skoðuð hin tvöfalda rýmisskynjun sem manneskjan býr yfir að geta verið á einum stað hér og nú en á sama tima annarstaðar í huganum.

(Rýmisstaðsetningar 1994;GPS staðsetningarverk 1996;Music For Astronauts And Cosmonauts 1997-2002; 24 Höggmyndir eftir Einar Jónsson 1996)

Þennan eiginleika áréttar Húbert Nói með því að mála verk ætíð eftir minni og skissum.

Húbert Nói skoðar meðvitað snertifleti, landamæri andlegs heims og veraldlegs og ekki síst hvar þessir heimar hverfast saman í listaverkum ( Málverk af málverkum 1994, As above,so below 1996)

Húbert Nói lítur svo á að þegar áhorfandi nær sambandi við listaverk þá er hugsunin ekki fyllilega í áhorfandanum og ekki fyllilega í listaverkinu heldur á einhverjum þeim 3ja stað þar sem þessir þættir sameinast.

Húbert Nói er þannig að skoða rými – Geometriu – og notar oft það orð yfir verk sín einmitt vegna hinnar tvöföldu merkingar sem það býður sem rúmfræði og sem hugtak innan myndlistar. En þetta tvennt kemur ljóslega fram í verkum nefnd – Rotated Canvas- (2007) þetta eru landslagsmálverk fengin með GPS mælipunktum, sem er mæling á rými , verkunum er síðan velt upp á hlið og talast þannig einnig á við formræna rýmisskynjun en þessar tvær hliðar rúmfræðinar eiga sér stað í sitthvoru heilahvelinu og er þannig meðvitað samtal við bæði heilahvelin samtímis.

Við það að vera á einum stað en ferðast í huganum annað er bæði fyrir hendi kyrrstaða og hreyfing. Þá eiginleika skoðar Húbert einnig í sumum verka sinna og má sem dæmi nefna verkið Gravity (2005) það verk er 47 kg lóð sem hefur oddlögun sem bendir á miðju jarðar. Þar sem þetta verk er sýnt er þyngdarkrafturinn undir því mældur en hann getur breyst á 20 cm. Verkið breytir þannig um nafn eftir staðsetningu. ( Styrkmunur á þyngdarafli er notaður til að kortleggja innviði jarðarinnar) Það sem er til skoðunar í þessu verki er að ástæðan fyrir því að lóðið hreyfist ekki er að það er hreyfikraftur sem togar í það, og ef ýtt er við því mun hreyfikraftur stöðva það.
©Húbert Nói Jóhannesson

s